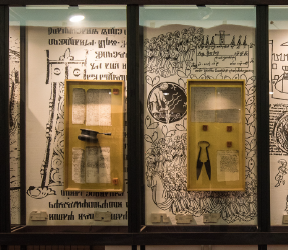 The permanent cultural and historical Glagolitic exhibition was opened in the University Library of Rijeka on December 30, 1968, in honor of the 25th
anniversary of the decision to annex Istria and Rijeka to the motherland of Croatia. The author of the exhibition is academician Branko Fučić, the most important researcher of the Glagolitic heritage in Croatia. In this unique exhibition, the Glagolitic heritage of Istria and Croatian Littoral, the cradle of the Croatian Glagolitic alphabet, the national alphabet of the Croats, is shown in the place, through 130 exhibits (copies of epigraphic monuments, frescoes, handwritten and printed Glagolitic books). The exhibition provides a picture of the development of the Glagolitic alphabet in historical time, in the geographical area and in the human ambience of the Istrian-Kvarner area.
50 Years of ''Glagoljica''
The 50th anniversary, the golden jubilee, of a cultural and historical exhibition "Glagoljica" (Glagolitic script) was marked on Wednesday, December 5th, 2018, with an appropriate ceremony. The exhibition is set up at the University of Rijeka Library since December 30th, 1968.
This unique and significant exhibition, set up in the premises of the University of Rijeka Library, follows the chronological course of the development of the Glagolitic script and the creation of Glagolitic monuments (stone, handwritten, printed monuments and frescoes), which testify to its historical continuity in the area of Istria and the North Adriatic, the cradle of literacy.