Pursuant to Article 25 of the Statute of the University Library of Rijeka (consolidated text), principal adopts
Price list of services of the University Library of Rijeka
MEMBERSHIP FEE

 

 

Annual fee

 

 

UNIVERSITY OF RIJEKA

 

 

Students

0,00 eur

0,00 kn

Scientific and teaching staff and other employees

7,00 eur

52,74 kn

Pensioners UNIRI

7,00 eur

52,74 kn

USERS OUTSIDE THE UNIVERSITY

 

 

High school students (final grade)

8,00 eur

60,28 kn

Students of other higher education institutions

13,50 eur

101,72 kn

The others

13,50 eur

101,72 kn

Monthly membership fee

4,00 eur

30,14 kn

Weekly membership fee

3,00 eur

22,60 kn

Daily membership fee

1,50 eur

11,30 kn

DELAYS AND FEES

 

 

– per book per day

0,15 eur

1,13 kn

– per book from protected collections per day

1,00 eur

7,53 kn

– by renting lockers per day

0,15 eur

1,13 kn

Book a reservation

1,00 eur

7,53 kn

A lost book

purchase of the same issue or market price fee

purchase of the same issue or market price fee

Replacement of a damaged or lost ID card

3,00 eur

22,60 kn

Lost locker key

4,00 eur

30,14 kn

REPROGRAPHIC SERVICES

 

 

Duplication card

1,50 eur

11,30 kn

Card voucher 1,5

1,50 eur

11,30 kn

Card voucher 4

4,00 eur

30,14 kn

Card voucher 7

7,00 eur

52,74 kn

Card voucher 13,5

13,50 eur

101,72 kn

* using the card, services are charged at the following prices:

 

 

Photocopying / printing black and white A4

0,10 eur

0,75 kn

Photocopying / printing black and white A3

0,15 eur

1,13 kn

Photocopying / printing in A4 color

0,15 eur

1,13 kn

Color photocopying / printing A3

0,50 eur

3,77 kn

Scanning – by scan

0,10 eur

0,75 kn

Self-scanning

0,00 eur

0,00 kn

Scanning of protected material – per scan

1,00 eur

7,53 kn

CD / DVD storage

1,00 eur

7,53 kn

BIBLIOMETRIC SERVICES

 

Bibliometric reports for researchers (for reports containing more than 10 articles)

25,00 eur

188,36 kn

INTERLIBRARY LOAN AND DELIVERY OF DOCUMENTS

 

FROM OTHER INSTITUTIONS

 

 

– books from the National and University Library

4,00 eur + invoice of the sender per unit of material

30,14 kn + invoice of the sender per unit of material

– books from other Croatian libraries

4,00 eur

30,14 kn

– books from European libraries

28,00 eur

210,97 kn

Photocopy of an article from Croatian libraries

according to the sender's account

according to the sender's account

Photocopy of an article from abroad

16,00 eur

120,55 kn

Document in digital format from Croatian libraries

according to the sender's account

according to the sender's account

Document in digital format from abroad

according to the sender's account

according to the sender's account

FROM THE FUND EVERYWHERE

 

 

Book material

4,00 eur

30,14 kn

Photocopies (per page)

0,15 eur

1,13 kn

Scanning (per page)

0,15 eur

1,13 kn

THEMATIC SEARCHES

 

 

Complex thematic search – per hour of work

5,50 eur

  41,44 kn

USE OF LIBRARY EQUIPMENT

 

 

Storage cabinet rental – weekly

1,50 eur

11,30 kn

Storage cabinet rental – monthly

4,00 eur

30,14 kn

OTHER

 

 

Glagolitic exhibition – ticket

3,00 eur

22,60 kn

Classification of articles – by bibliographic unit

3,00 eur

22,60 kn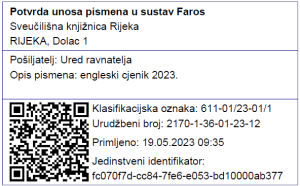 The amount of the fixed conversion rate is 1 EUR = 7.53450 HRK.


Use of the Library space according to the Ordinance on the transfer of public Library space for use for a fee.
When ordering larger quantities of scanned material for the needs of publishing and other projects, the price is negotiated separately.
PRINCIPAL:
Lea Lazzarich, book. counselor